I was always very skeptical of home staging. My attitude has always been that if it's priced right, it will sell. And rather than pay a couple thousand in staging fees, I'll just be really aggressive with my price. And that was a reasonable attitude… in 2007.
Take this example.
Last year, I had a really nice, renovated SouthPark-area home with a tenant who agreed to cooperate in helping me sell the home. I paid for some landscaping and minor repairs, and then put it on the market at $340k — a very attractive price for the area. We had plenty of showings, but no offers, and eventually withdrew it from the market.
Fast forward 1 year later. This time, the tenant's lease ended, so they moved out, and I listened to my agent's advice to stage the home (at least a couple of the "challenging" rooms). Same house, same price, 1 year later (when there are actually statistically fewer homes selling). And guess what? We had 3 offers in the first 2 days on the market.
Certainly, I was impressed, but I'm a numbers guy. There must be some explanation for this.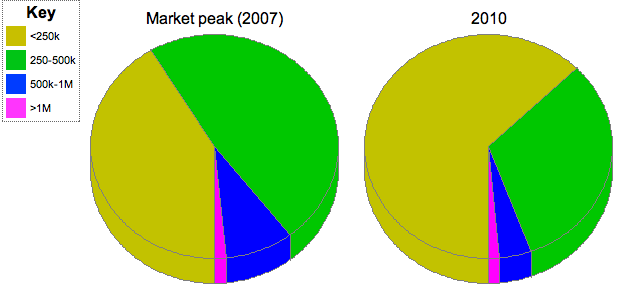 This is a graph of "sold" prices in Uptown Charlotte. Look at the difference between 2007 and 2010.
The $250k-$500k segment has shrunk considerably, and this "pie" represents fewer buyers overall as well. In the meantime, inventory is still pretty high, so the result is you have, relatively, very few willing and able buyers looking in certain price points.
So, it naturally follows that because there are so few buyers, you've got to have a near-flawless product, which means: clean, staged, smelling like fresh-baked cookies. Even if your seller is pricing their home aggressively, that isn't enough these days (compared to 2007, when eventually there'd be a buyer).
So, take it from me, a seasoned real estate investor and former staging skeptic. It's not even so much a difference of making "X" more dollars on the sale — it's a matter of whether you'll find a buyer at all!